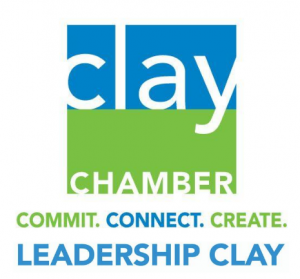 The Leadership Clay program, created in 2004, brings together promising young leaders in our community for a year-long program that enriches their knowledge of Clay County.
We're now taking applications for the 2024 Leadership Clay class. Class size is limited to 24 participants, large enough to form a network, yet personal enough to bond as friends.
The 2024 class year begins with orientation and a historical review of Orange Park with our opening session on Tuesday, February 20th at the Chamber Office at 8am. Leadership Clay will meet monthly and will end on September 19, 2024.
Tuition of $1500 is due upon acceptance into the class and is the responsibility of the participant; however, financial support from an employer or a civic sponsor is welcomed.
Sessions include county-wide tour with focus on manufacturing, medical centers, CCUA, Camp Blanding, including the deep woods/bonding experience, AR15 weapon certification exercise, Green Cove Springs Historic Triangle Old Jail, County Courthouse tour, Middleburg historical tour, Clay County Sheriff jail tour and "Day as a
Deputy experience. A not-for profit day including several businesses. Class Members will enjoy an array of "High Level" community wide experiences and gain lifelong connections of top level business, municipality and County Leaders
We invite you apply below or copy and paste https://forms.gle/783oZnQGmcYHxiLX8  to download an application. Application deadline is December 31, 2022. If you have an employee who would be interested in participating in the Class of 2023, please fill out the application and send to:
Leadership Clay
2042 Park Avenue, Suite 111
Orange Park, Fl 32073
Attn: President Jon Cantrell
Once the application has been submitted, the Selection Committee, comprised of Clay Chamber board members, will review the information and upon approval, the candidate will receive an invitation to participate in the 2023 Leadership Clay program.
Again, your consideration is greatly appreciated. If accepted, we believe the experience as a member of the Leadership Clay Class of 2023 will have an indelible impact you  personally and your professional life.